OXVA OXBAR G8000's TRIPLE MELON BLAST Disposable Pod (8000 Puffs)
The OXBAR G8000 disposable vape is a beast that can produce 8000 puffs and has excellent looks and performance. It stands out among other products thanks to its superb translucent shell and vibrant design. Additionally, its improved mesh coil ensures incredibly strong taste performance and abundant vapor production.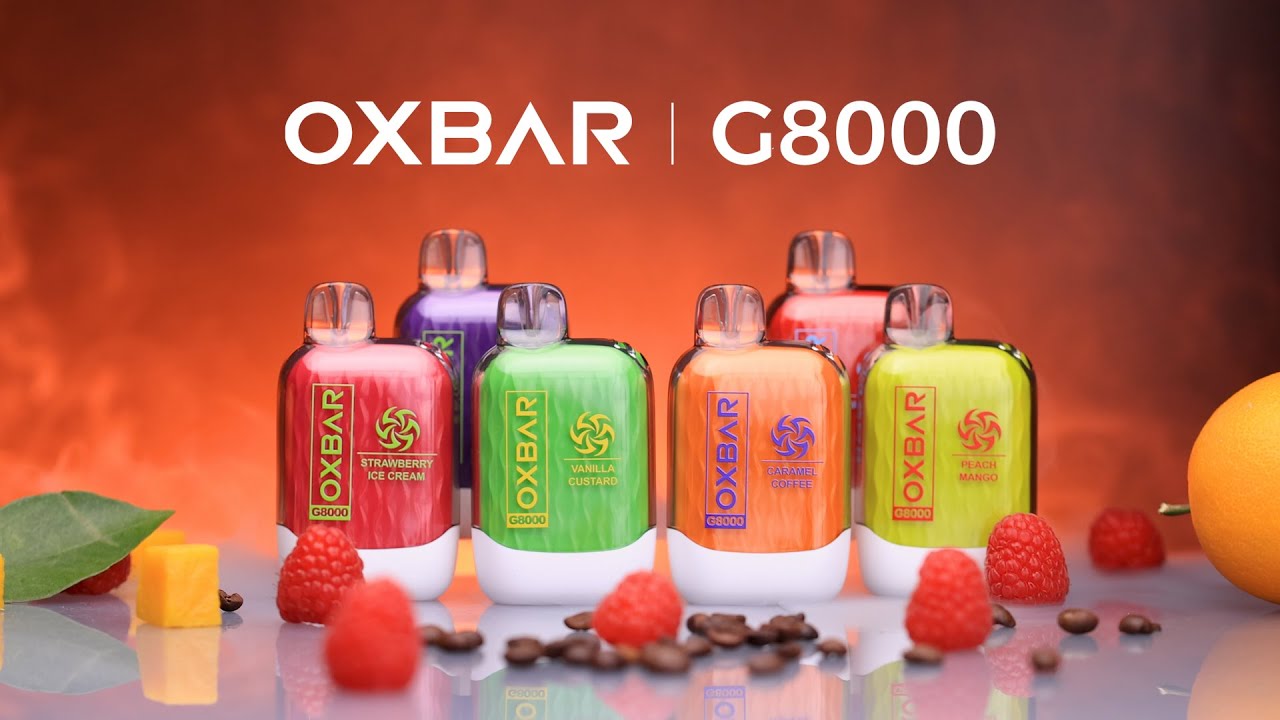 Design and Appearance of OXBAR G8000
I was head over heels in love with the OXBAR G8000's style and beauty! The first thing I noticed when I opened the box was how little and light it was. I'm not sure what exactly I anticipated, but the compact size really surprised me given that it's a rechargeable disposable with a 16ml e-juice reservoir!
Measuring 85.6mm in height, 49.7mm in width, and 25.4mm in depth, the OXBAR G8000 is a much smaller disposable than many of the other higher puff capacity, rechargeable devices on the market.
\
We frequently carried the three disposables OXBAR vape supplied us, and they were much less obvious in your pocket than in your phone or wallet.
Given that the OXBAR G8000 comes with 16ml of e-juice and a 650mAh internal rechargeable battery, it's quite an accomplishment that they were able to fit all of that into such a little device.
The OXBAR vape company created the G8000 disposable as a straightforward, user-friendly gadget. It's auto-draw, so all you have to do to take a puff is draw on the mouthpiece. The auto-draw functioned well on all three of the disposables I tested, and there were no buttons or knobs to worry about.
The OXBAR G8000's overall design and feel have really impressed me. As you can see from the images, it is made with a clear polycarbonate outer shell, and the main body of the disposable has wavy patterns running up and down it.
A plastic piece that is colored to match the flavor of the OXBAR G8000 disposable is hidden beneath the polycarbonate shell. The OXBAR vape brand name, disposable name, and flavor are etched on the front of the device. The 650mAh battery, type-C USB charging connector (0.5A), and LED puff indicator are located in the solid, white plastic bottom portion of the device.
When the battery needs to be recharged, the LED indicator flashes many times in rapid succession in addition to lighting up anytime you puff on the disposable.
The OXBAR G8000 is extremely cozy to hold and simple to grip because of its polycarbonate exterior and smooth, rounded corners.
For those of you who know me well, it shouldn't come as a surprise that I repeatedly dropped all three OXBAR vape disposables. Interestingly, the polycarbonate shell fared better than you may have anticipated, and the OXBAR G8000 certainly passed the durability test, barring a few tiny dings and scratches.
In fact, despite its lightweight construction and polycarbonate exterior, the OXBAR G8000 feels solidly constructed, strong, and long-lasting rather than cheap or flimsy.
A smooth polycarbonate mouthpiece part that extends about 17 mm above the body of the disposable is located at the top of the OXBAR G8000. The duck-bill-shaped mouthpiece is incredibly cozy to vape with.
The OXBAR G8000 disposable has a double-punched aperture in the right-facing corner where the provided lanyard can be attached. It's a good feature and it does attach firmly, as I've already said, but I personally don't use it.
The OXBAR G8000 doesn't support pass-through vaping, so you won't be able to use it to vape while it's charging if I had to pick one drawback. Given that the 650mAh battery charges completely in only around 45 minutes, it is not a big deal. I'm not a patient man, so it would have been wonderful to sneak a quick puff here and there while the battery was charging.
The OXBAR G8000's overall style and design, however, absolutely impress me. Its vibrant and eye-catching style, along with its small size and lightweight, make it incredibly practical and portable.
OXBAR | Flavors G8000
If you need another reason to love the OXBAR G8000 throw away, they are offered in 17 tantalizing, mouthwatering flavors, including:
Avocado Nana
Double Apple
Fanta Strawberry
Kiwi Passion Kick
Mad Blue
Sea Salt Lemon
Mango Peach
Rainbow Skittles
Peach Ice
Watermelon Slushie
Virginia Tobacco
Triple Melon Blast
Cranberry Grape
Clear
Sakura Grape
Strawnana
Cool Mint
As you can see, the flavor selection has a wide variety of delectable flavors, including many fruity flavors, a tobacco blend, and even a "clear" flavor, which is, I presume, a flavorless choice.
If you've used the clear OXBAR G8000, do share your experience in the comments section below! If the flavorless option is available, this is the only disposable variety I've encountered that offers it.
Also welcome is the addition of a tobacco flavor to the flavor palette. Although it won't be a problem for everyone, I know there are many of you in the community who are constantly searching for a good tobacco mix. The majority of the disposables we've tested don't have a tobacco flavor.
Features and Specifications
Dimensions: 85.6mm (Height) x 49.7mm (Width) x 25.4mm (Depth)
Weight: 72g
E-Juice Capacity: 16ml
PG/VG Ratio: Not Specified
Nicotine Strength: 50mg Nic Salt E-Juice
Draw-activated
8000 Puff Capacity
17 Different Flavors
Battery: Internal Rechargeable Battery (650mAh)
USB Type-C Charging Port (0.5A)
Coil Resistance: 1.2ohm
Coil Type: Mesh Coil
Output Power: Not Specified
Material: Polycarbonate
LED Puff Indicator