VOOPOO V.THRU PRO 25W POD KIT 900mAh
The VOOPOO V.THRU Pro 25W Pod Kit is a portable vaping kit that is small and fashionable and provides great performance.
Powered by an integrated 900mAh battery, this pod kit delivers up to 25 watts of power, providing a smooth and satisfying vaping experience. With the innovative GENE chip, the V.THRU Pro also offers intelligent power output and multiple safety protections.
A 3ml refillable pod with a handy side-fill design and a 0.7ohm mesh coil or 1.2ohm coil for the best flavor and vapor production comes with the V.THRU Pro. The V.THRU Pro also features cutting-edge adjustable airflow technology that enables you to tailor your vaping experience to your precise tastes.
The V.THRU Pro was created with portability in mind and has a sleek and lightweight design that fits neatly into your pocket or backpack. The V.THRU Pro is also quite easy to operate because to its straightforward user interface.
The VOOPOO V.THRU Pro 25W Pod Kit is the ideal option for anyone looking for a portable and dependable vaping device, regardless of your level of experience. Why then wait? Get your V.THRU Pro 25W Pod Kit right away to enjoy the best possible vaping!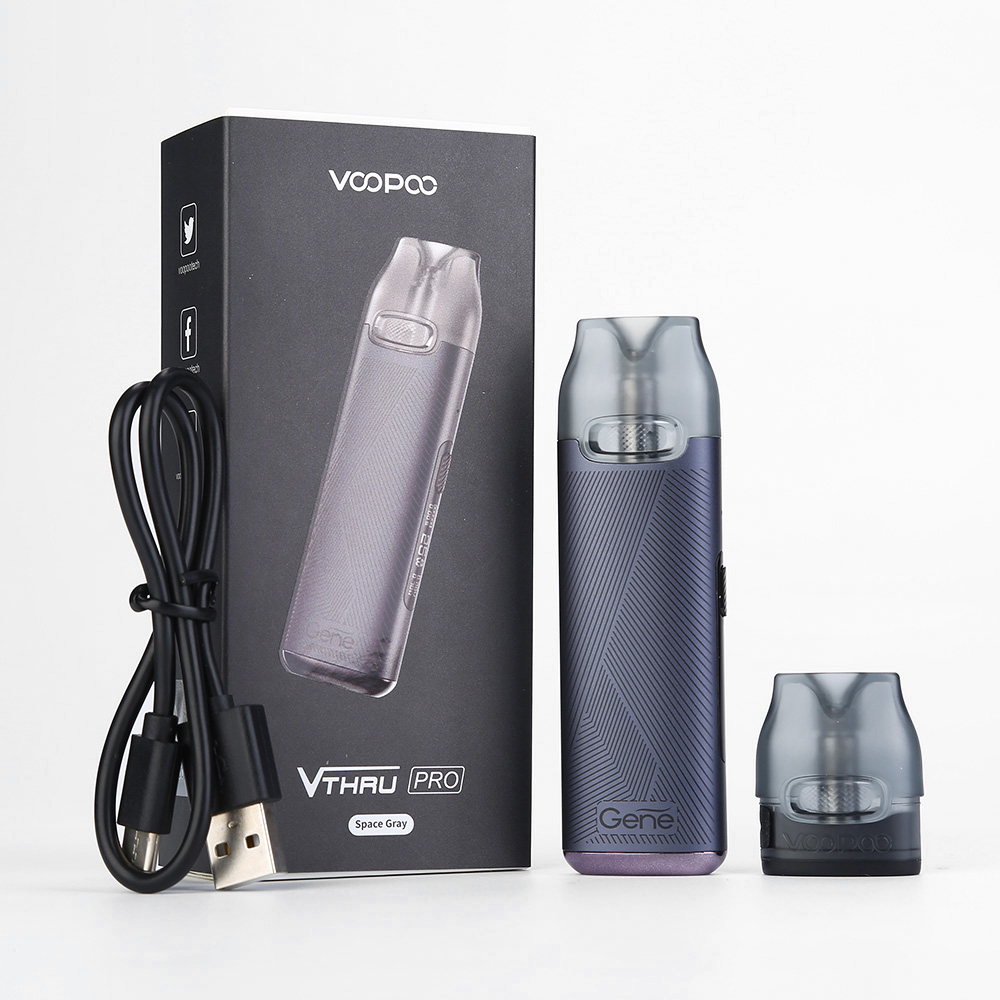 VOOPOO V.THRU PRO 25W POD KIT 900mAh System Features:
GENE Chipset
Dimensions – 95.5mm by 28.5mm by 14.9mm
Integrated 900mAh Rechargeable Battery
Wattage Output Range: 5-25W
Voltage Output Range:
Resistance Range: 0.7ohm / 1.2ohm
Aluminum Alloy Chassis Construction
Draw-Activated Firing Button
0.69″ OLED Display Screen
VOOPOO VTHRU Pod Series
Ergonomic Mouthpiece
3mL Pod Capacity
Side Fill System – Silicone Stoppered
0.7ohm Mesh Coil – Integrated
1.2ohm Spiral Coil – Integrated
Clasp and Magnetic Locking System
One-Way Condensate Space
Overtime Protection
Output Over Current Protection
Short-Circuit Protection
Overcharge Protection
Over Discharge Protection
Reverse Airflow Protection
Type-C Charging Port
VOOPOO V.THRU Pro 25W Pod Kit 900mAh Includes:
1 x VTHRU Pro Device
1 x 0.7ohm V.THRU Pro Pod
1 x 1.2ohm V.Thru Pro Pod
1 x Type-C Cable